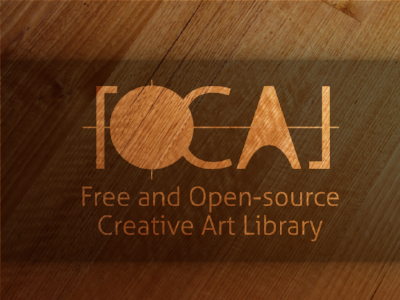 A FOSSEE free/libre open source software for education is project initiative taken by Prof. Kannan Moudgalya, promotes the use of FLOSS tools to improve the quality of education in our country India.

About FOCAL:
With the aim of making an availability of templates, graphics and artwork for day to day activities in educational field for students and faculty without copyright infringement, Pro. Kannan Moudgalya extends a branch of FOSSEE called FOCAL (Free and Open-Source Creative Art Library). FOCAL is encouraging  the user to use and learn open source software like Inkscape, GIMP, Scribus, Blender, Synfig Studio etc. for promotional, educational activities in area of academic as well as commercial. 
FOSSEE Road map:
Started from 2009 up to till FOSSEE promotes various software in engineering academic field. Currently FOSSEE promotes FLOSS like Scilab, R, DWSIM, Python, Osdag, OpenFOAM, Esim, OpenModelica, OpenPLC, Scilab -Arduino, SBHS. Encouraging students and faculty to use these FLOSS in education and research through the activities like Textbook Companion, Lab Migration, Forum and heading workshops, conference at IIT Bombay as well as by remotely where students and faculty participate from across the country.
FOCAL work is licensed under a Creative Commons Attribution-Share Alike 4.0 International License. It is an initiative of the FOSSEE project is part of the National Mission on Education through Information and Communication Technology (ICT), Ministry of Human Resource Development (MHRD), Government of India.
Author: Khushalsingh