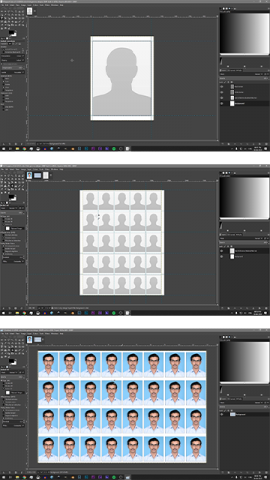 With this template pack, you can:
- Drag and drop to resize / crop your image to Passport photo size.
- Make multiple copies for printing on 8 x 10 and 8 x 12 inch photo papers.
Watch this video to understand how easy it is to use this template:
---
Category: Special (passport size photo template)
GIMP version: 2.10.14
Created by: AGHOSH B PRASAD
Event: FOSSEE Summer Fellowship 2020
---
* Download the zip file. Unzip it and edit in GIMP.
* It is illegal to use registered logos in your project without terms and conditions and owner's permission.
---
Download latest GIMP version :  GIMP Downloads 
---
Tutorial for Inkscape:  GIMP Tutorials 
Download GIMP Editable File